Turn your digital photos into beautiful slideshow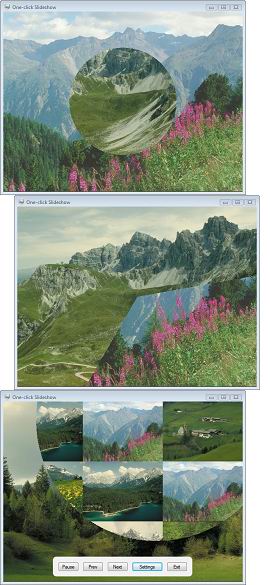 One-click Slideshow displays your digital photos as a beautiful slideshow. Select the photos to display, choose visual effects to your taste, and run the slideshow of your favorite photos whenever you feel like with just one mouse click.

One-click Slideshow uses a number of stunning transition effects to change photos. You can also select the speed of transitions, set the timeout between the slides, or specify how many photos you want on the screen simultaneously. One-click Slideshow runs in full screen as well as in a window, so you can enjoy every little detail of the photos or have the slideshow running in parallel with other tasks.

You can try the program absolutely FREE!
Download One-click Slideshow right now and enjoy your photos whenever you feel like.